Powerful tools for your Race Navigator system
The RN software solutions and apps are an integral part of the Race Navigator systems. The powerful tools support you in data analysis and help you to become even faster.
With the free RN Analyzer, lap comparisons, data analysis and video evaluation become child's play. The RN Connect App allows remote control of the RN ONE MKII and RN PRO via iPhone. The RN Telemetry Software in combination with the telemetry hardware modules provides vehicle data in real-time directly from the track.
RN ANalyzer app for Apple ipad
RN Analyzer for Apple iPad
The Race Navigator App RN Analyzer is the extended evaluation tool for your data from the RN LITE, RN ONE and RN PRO.
With the app you can easily transfer the data of your Race Navigator via WiFi to your iPad or Windows PC. Lap comparisons, data analysis and video evaluation become child's play. You can also manage the recordings of your events, stints and laps comfortably with the app.
RN ANalyzer software for windows
RN Analyzer for Microsoft Windows PCs
The powerful analysis tool RN Analyzer is now also available for Windows PCs – simply download, install and start using it for free! The perfect tool for race and data engineers as well as for all those who want to analyze their driven laps comfortably on the PC.
A modern user interface guarantees a perfect overview. All usual functions of the RN Analyzer App are available.
RN Connect for apple iphone and iPad
Control the RN ONE MKII and RN PRO via App
With the RN CONNECT app, you can control the RN ONE MKII and RN PRO via iPhone or iPad. You can change numerous system and profile settings, perform updates, and view laps in the app and share them in social media channels.
In particular, the RN Connect App allows you to control the RN PRO main unit without a display.
Overview of the main features: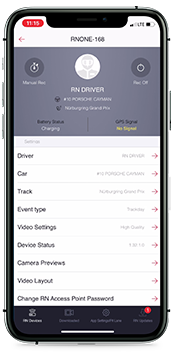 RN Telemetry-Software for Windows
Livestreaming of data directly from the track
With the RN Telemetry module, data from the vehicle on the track is sent directly to your laptop. The corresponding software for Microsoft Windows PCs makes it possible to continuously display lap and vehicle data and to analyze them in real time.
For the use of the Telemetry software a fee-based license is required. The software also offers a special, free-for-use, spectator mode in which position, speed and lap time are displayed.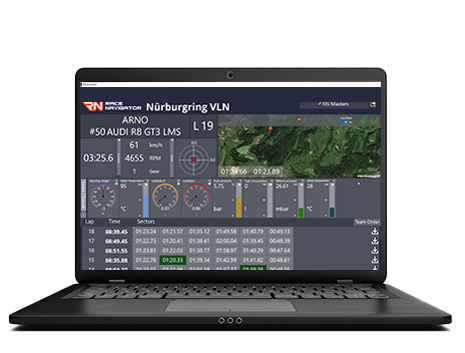 Overview of the most important features: